• Fashion Art • Fashion Design • New Products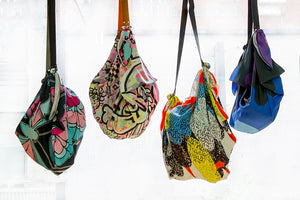 In my last post, I introduced my partnership with Montreal fashion house Le Galeriste to produce my art on upscale women's clothing and accessories. It's an exciting new direction and I'm thoroughly enjoying learning to design for fashion. Thank you all for your enthusiastic support! As if to give credence to this new direction, I've just partnered with yet another Montreal based print-on-demand (POD) company to produce my work on affordable fashion accessories like bags, pouches, kimonos, and robes, and more. POD is a brilliant business model - no inventory means minimal waste, unlike the huge environmental impact of the fast fashion industry. Of...
---
• Fashion Art • Fashion Design • Transformation • Wearable Art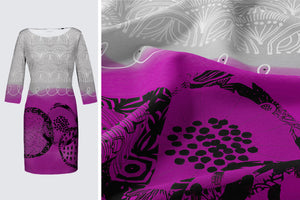 A lot has changed since 2020. The world is different, I'm different. We're all different because who could survive the last 3 years without undergoing  fundamental changes? Even though I "lost everything," my business, my home, my lifestyle - I've gained far more.  I've reconstructed every aspect of my life and have extricated myself from under the weight of too much stuff. Nicole owns my business, strangers own most of my personal possessions, and a nice artsy gal owns my house. I own very little, and honestly - why did I wait so long to let it go? Gone are boxes of...
---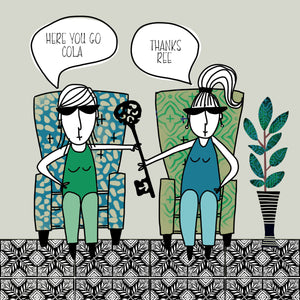 In July 2020, we moved my 15+ year old "non-essential" pottery business out of a gorgeous light-filled, brick & beamed historic mill - and into my home's finished basement. Grateful to have survived the shutdown's arbitrary rules, we spent the last year trying to figure out how to survive in this pending reset world. Business as usual was gone, along with half of our income in the form of shuttered gift shops and cancelled weddings.  In lean times, small businesses survive by getting really lean, really quick. I stopped taking a paycheck and we went into survival mode. A combination of government loans...
---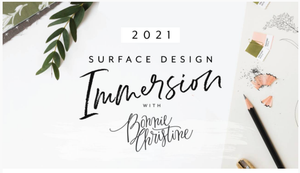 Today I begin my third class in surface pattern design. It is said that the third time is the charmer. I've proven this adage incorrect a countless number of times and what I lack in follow-through, I make up for in tenacity. I love a new challenge, especially one that tests my ability to overcome being a quitter when faced with my own design limitations.  I'm thrilled to be taking this class. My last experience with designer Bonnie Christine was back in 2015. I found her surface pattern design class on Skillshare and not only signed up but actually completed it. I wrote a...